So, my date with Mary Kay was not awful. There were two other young women there with me so the pressure was off of me to buy, sell and all that. As it turned out, the Mary Kay representative who approached me is kind of a Mary Kay celebrity- she created a special recruiting tool, she makes a more-than-decent living, and she has earned nine free cars. NINE FREE CARS!
Because she is so successful she did not pressure me as hard as the lady in Flower Mound to buy products or start attending meetings to become a consultant. (The Texas woman told me I do not need to see my fiance as much as I thought I did when I told her I hardly see him as it was. Ummm... thanks? for the advice...? Now go to marriage counseling with your hubs because you've lost The Spark.) Like, she actually took no for an answer, and that was that.
The best part was that I spent no money and just by attending I earned a free product I can
actually use
. It's a concealer/cover up specifically for the eyes so now I will look like I actually get enough sleep! This is a miracle. Heaven is shining upon my sleepy face.
The worst part about the evening was this.
Yeah, that would be my face. On the bright side (and I don't mean my shimmery eyelids), now I know which color scheme to use should I ever portray a hooker on stage. A dimly lit stage. Please note the four different glittered eye shadows PLUS blue eyeliner fit for a shiny Spandex-clad aerobics instructor circa 1985 PLUS a landing strip of blush.
That first photo doesn't show it well but I actually have eye shadow on my lower lid. It's green.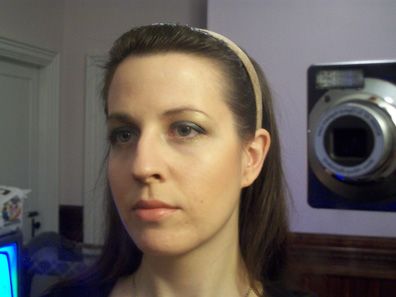 Do people actually do that??
Liam actually looked at me funny when I came home. When I entered the living room he happily called, "Mama!" and came at me with open arms. THEN HE SAW MY FACE and he stopped. That's not a good reaction from the one person in the world who thinks you're perfect. Gabe simply said, "Holy crap." Not
Holy Crap I Want to Make Love to You
, but HOLY CRAP WHAT IS WRONG WITH YOUR FACE.
I had planned originally to stop by the grocery store before coming home but I obviously couldn't go out looking like that. My skin never felt so virginal and pure after I washed it. And washed it again. And there was still glitter freckling my cheeks.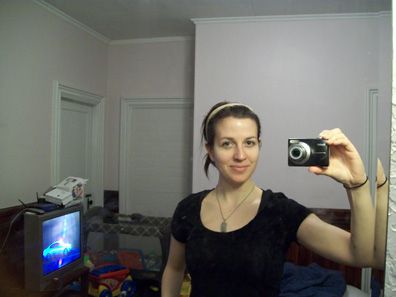 My pores had been strangled by foundation for over two hours and they took a deep sigh of relief. (And see what I mean about my eyes? I look like I sleep even less than I actually do.)
Today I took another photo of myself for this post to show my everyday makeup. Because I do wear makeup nearly every time I leave the house. Just not as much. Ever.
I know, it's not too different from my freshly-washed pic, and that's intentional. I don't want to look like someone else when I wear makeup. I want to look like me, but a little more polished, a little more well-rested. Every day I wear eyeshadow, mascara and lip gloss. When I'm feeling fancy I use some mineral powder to even out my skin tone (at least as much as it can be helped) and a touch of color on the apples of my cheeks. ONLY the apples. For special occasions I wear eyeliner if it suits what I am wearing.
I get more free stuff in a couple weeks when I model for the scar-blemish reduction seminar she's doing for the consultants she manages. Sooo... that's only one thing I didn't say no to! And it's a bit of a novelty when my face looks clear, so I still win. I think?
.