Hey, so you know how I like Frightened Rabbit? Like,
a lot
? A lot, A lot? Well they came to Boston in April! Since they are one of the two bands I vowed to go see
even in Boston
if that's the closest they came, I headed down by myself to see the magic.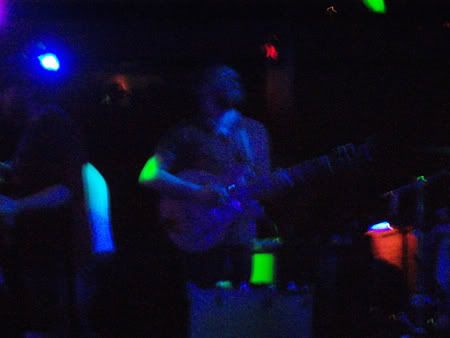 So, I was pretty close on the side of the stage, but I haven't mastered my camera yet. Let's pretend that instead of
blurry
, these photos are
artsy
.
They were amazing. There's no other word. They blew me away and they changed my life. I mean that.
Yes, that's a pretty halo right 'round Scott Hutchison's head and that's because he's kind of angelic. And yes, I mean that too, just not in the conventional angel kind of way. They were all glowing with something I can only think to describe as kindness or purity. Something really special, and I know that sounds cheesy, but these guys... I mean, have you HEARD them?
There was an epic sing-and-clap-along at the end of "The Loneliness and the Scream." Do you know the song? If so, you'll know which part I mean. It was one of many moments during the show that gave me chills. (If you don't know the song, you can hear it below- pay attention at 2:40.)
It makes you want to sing WHOA-OH-OH and clap like crazy, right???
It took me a very long time to get home because I may have gotten lost trying to get out of Boston, then it took me forever to find something to eat on the way home. For the 4+ hour stretch I was blasting Frightened Rabbit on my car stereo and singing at the top of my lungs. The early, early mornings in Maine are foggy so the moon and rising sun and skyline of trees were hazy, whispering, nodding.
It was all so pure.