Last night I was sitting on one end of the couch, I don't even remember what I was doing, while Gabe and Liam were on the other end, playing and cuddling. Liam comes walking over to me, shaky-kneed on the fluffy couch cushions, and he puts a strong hand on my shoulder to brace himself as he lifts a leg up to sit on my lap, facing me.
He plops down and smiles at me, and as I smile back he shrugs and falls into me for a cuddle. I hug him and tell him I love him, and what does he do? He looks me in the eyes, puts his little hands on my cheeks, and presses his nose up to mine. He shakes his head a little, the tips of our noses brushing in a sweet Eskimo kiss.
When he noticed me smiling, he did it harder, a smile spreading across his face, his eyes closing. He didn't let go of my face for a few minutes, and I giggled and cried.
Liam last year at this time...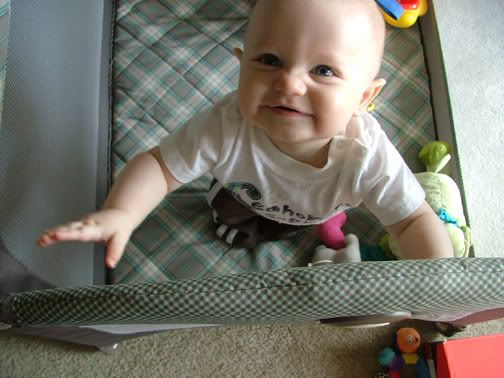 Liam this year...