I mentioned a
few entries back
that I was aching over a pair of boots that was outside of my price range by about a bajillion dollars.
My heart broke some more when I took into consideration this little tidbit I usually forget to check on right away: most boots, including the ones I loved, are made of leather, and I am vegetarian. Enter me crying a little here.
Now, yes. Some vegetarians wear leather. Some vegetarians even eat
gelatin
. To some, there are gray areas about the vegetarian lifestyle, and that's fine for them because it's their life- but to me it's black and white. I don't wear or eat animals. Even if it's a beautiful pair of boots. Because ew, you know?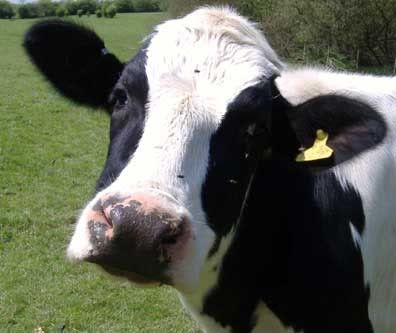 I'd rather that leather stays in the pasture, on the body it belongs to. Not mine. And isn't that a gorgeous cow? Look at that sweet cow face.
So, even though I never would have bought those boots because I don't have a bajillion dollars, I hung my head and continued The Great Boot Hunt of 2008. Which I just thought up the name for, just right now, so uncrinkle your nose. Our financial outlook is bleak, but I figure as I create more items for
my shop
, I might come up with some boot money- somehow, somewhere.
I saw some nice boots newly listed on the Target website for a very reasonable $35.00: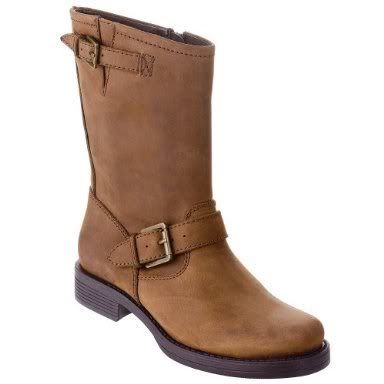 And by nice, I mean I had a fashion orgasm. Then I read further: LEATHER. Ack. Heartbroken. Fashion orgasm reversed- which is an unpleasant sensation, I assure you. And that was all that interested me from Target.
Next, I looked over a few websites I know of that carry animal-friendly footwear. But their prices were not reasonable (for me at least) and I pouted as I Googled "vegan boots" with very little hope and more than a little bitterness.
Then the heavenly light shone upon me and I heard angels singing as my eyes fell upon these beauts: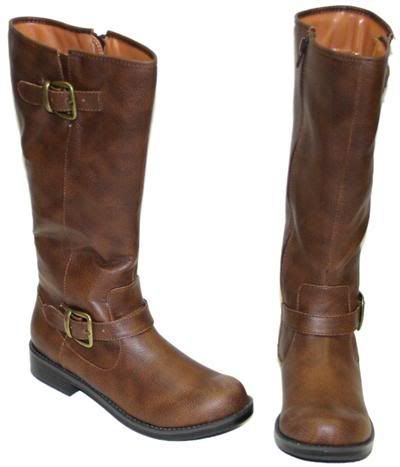 *Aaaaahhhhhhhhhhhhhhh* (That's the angels.)
These boots cost $55. Which is a lot of money for me- a LOT- but very reasonable considering their leather or popular-brand counterparts. I want them. I want them so bad. AlternativeOutfitters.com, I
think
KNOW I love you. Please don't sell out of size 9's.
Please buy
my postcards
? Operation Boot Fund is now in action. One, two, three, GO!