I'm not always so sage and wise and quiet like Buddha. (What?) I mean, I'm not always so thoughtfully dissecting the relationships of 20-person families, or the tao of (baby) poo, or the complexities of my celebrity crushes.
**
Before I go on, worry not: I don't actually think that highly of myself and my ramblings. It's late, I am overtired and I just ate a few pieces of chocolate. I'm a little on the loopy side.
**
Sometimes I think for long stretches of time about my hair, my lack of shoes, and worry over how my boobs and butt look in different bra/shirt combinations and in my favorite jeans.
That's right, I am normal.
So first, let's talk about my hair. More specifically, my bangs. They're getting long. I haven't cut them since the beginning of summer, and they're reaching my lips. I had full intentions of letting them grow longer. The rest of my hair is really long, as I haven't had it cut since the week I gave birth to Liam. It's down to the middle of my back, and I'll be growing it for a few more months before I cut it for
Locks of Love
. I've been getting The Itch, though, The Itch I always get when I am growing out my bangs. I go back and forth about their future and I thought I had mostly decided to stick with the growing. But watching the series premiere of NBC's
Kath & Kim
I was
insanely bored and not laughing, not even a little
inspired by Selma Blair's beautiful bangs. Then my friend Rachel from Texas cut her bangs and posted the pictures of it on MySpace and that was it. She likened one of her photos to me with bangs, and I was convinced.
Hello Bangs, I am coming home.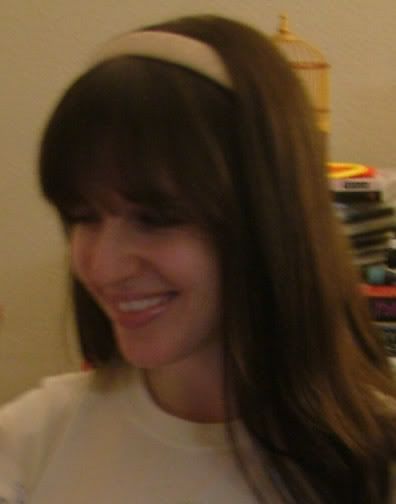 (January 2008)
(April 2008)
Secondly I am struggling through a serious lack of suitable footwear. All I wore this summer was my black flip flops, and sometimes my white or black flats. But you know how flats get in the summer when you don't wear socks, ever. Stin-Kee! I can't just wear my flip flops all fall and winter. I found a pair of shoes a couple weeks ago at Target that I love, and I bought them for the fall, which brings me up to one pair of shoes aside from my flip flops and still leaves me at a loss for winter. They are cute but I don't think these are a good idea in the snow:
I have a pair of boots I bought second-hand when I first moved to Portland. Let me tell you, they really are something. As my former assistant manager once told me, "Those are some serious boots you have there, Nora." The problem is, since they're so serious and all, they're not good for just throwing on and running errands. They're special boots. They have a thick black wedge sole and they come up to my knees, with a little bit of fuzzy lining peeking out of the top. They are best with long skirts and tights.
I fell in love with a pair of boots recently after reading one of my favorite blogs. You can read about the blogger, Bossy, and see the boots
here
. The problem is, they are out of my price range. By about $150-170. Yes, really. But I can't stop thinking about them, and their perfection, and how I could wear them for three seasons, which is two more than my Serious Boots. With our current financial situation, there's no way I can justify buying these boots no matter how much my feet need them. My feetsies need to stay warm, yes? Don't those boots look so cozy? I'll have to find something else at Target or wherever.
But I look for boots on Target.com and get all googly-eyed over rain boots, which I would love to wear in the springtime.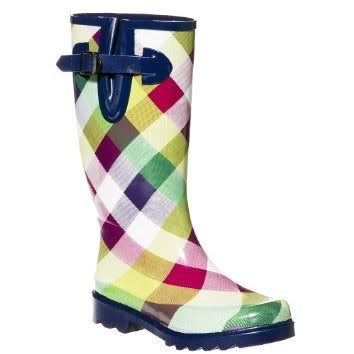 I am not going to talk about my breasts and my butt 'cause that's personal! (Plus, um, haven't I already talked about my butt a little? And had the ladylike grace to make reference to "Baby Got Back" in the
title of that post
?) But I will still think of those things.
...and of my bangs, and of those beautiful, beautiful boots.
......and philosophy and science and mathematics and ancient Greek poetry.
Um, could really drink a root beer right now. I will think of that also.