The party was June 7. We had a picnic in the yard and then came back into our kitchen, where it's a little cooler, for cake and presents. Considering the overwhelming amount of attention he got, Liam had a lot of fun with everyone and enjoyed chewing on the corner of the boxes his gifts came in.
This is the bumblebee zucchini-banana cake I made all by myself. I didn't want to find or make black frosting so I used licorice for the stripes and face. As it turns out, licorice bends but doesn't like to stay there so the bumblebee grimaced more than he smiled. But it was a hit.
I made him a star-shaped version of the cake for him to have fun with.
He wasn't sure what to do with it at first.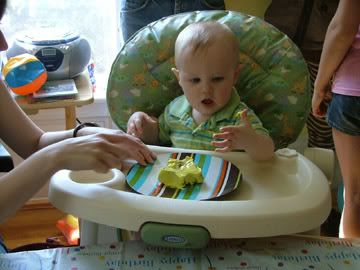 And in the end he had the frosting in one ear, behind the other, and in the corner of his eye (which you can't see from this angle).
Here's a picture of Liam playing with his new cars while I opened more gifts for him.
It was really lovely for everyone to come and celebrate his first year with us. We've had ups and downs and lived in two different parts of the country but there's nothing like looking back on it all and knowing you have a really, really awesome kid and wonderful people in his life.