Two years ago today, Gabe and I were married in Lewiston, Maine, in the yard of my aunt and uncle/Godfather, in front of our friends and family. It was sunny and 75 degrees. No humidity. (And my skin was even cooperative!)
I am unable to form a sufficient group of words about our wedding day and about our marriage, so enjoy my six favorite photos of us from that day instead.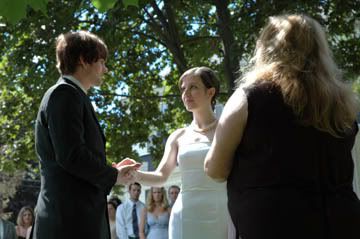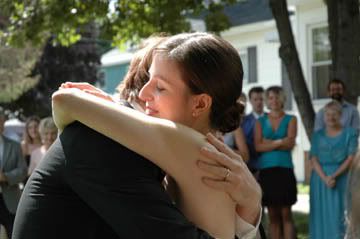 One of few times you'll ever catch me dancing in public: my wedding day.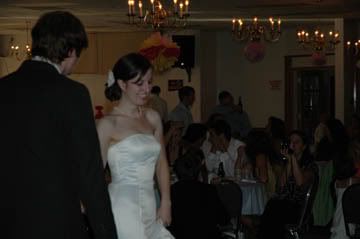 I was going to say, did we really look that young two years ago?? Then I remembered, I got pregnant one month after our wedding so yes... it is possible that we looked
that young
just two years ago.
Tomorrow will mark five and a half years to the day that we've been together. I know we're still young yet but when I put numbers on it like that it's hard to imagine that span of time and how things were before it.
Photo Bonuses:
This was taken sometime in 2003, less than a year after we met. We are leaning back on our bed and trying out the timer on the camera. For some reason I have always loved this photo a lot.
(This was when I had to wear glasses, even in my sleep, and Gabe dyed his hair black. It didn't match his brown beard but this man was [is] one sexy fool.)
And this is one of my favorite photographic memories of our honeymoon. This was a photobooth at the arcade at Old Orchard Beach.
(The little red splotch on my forehead? That would be SHINGLES.)
Happy Anniversary, Gabe.
xoxo Nora
I love you.