I had my hair trimmed tonight by Carmen at Karma Hair and Bodywork Salon on Sabattus Street in Lewiston.
Here are my before and after photos. Note the scraggles at the bottom of my hair in the before shot. Those were driving me bananas. In the after shot, my hair looks healthier with a cleaner cut with just a few snips.
The best part is my bangs, which Carmen cleaned up for me. I've been trimming them myself but I am afraid to make them too short so I kept them too long and they were always in my eyes.
Now I can see!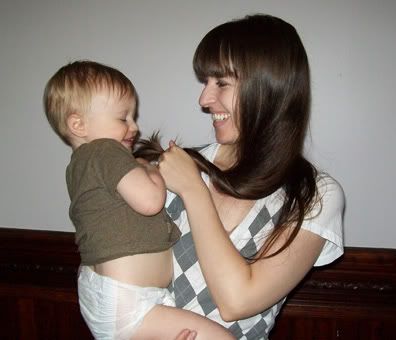 (Please note: that's not some weird chunk of hair on the other side of my face; that's the shadow my giganto nose is casting on the wall behind me.)
Liam loves running his hands through my hair, especially when it's wet. I think subconsciously that's another part of why I don't want to get rid of it all yet. Plus, I can still totally tickle him with the ends of my hair without even turning my face away from him.
My hair looks like it's about the same length now as it was in March of 2006 when I donated it last. I think I'll keep growing it at least through the fall before I cut it again- and now, thanks to Carmen, I'll have healthier hair to send off to someone who needs it more than I do.